Woot! Just read an announcement that the New Moon movie will be released Nov. 20, 2009. It had been reported everywhere that it wouldn't be out until 2010, so a year sooner is awesome news! We've already learned that Twilight director Catherine Hardwicke won't be directing this one....Golden Compass director Chris Weitz will be.
And I also just saw this: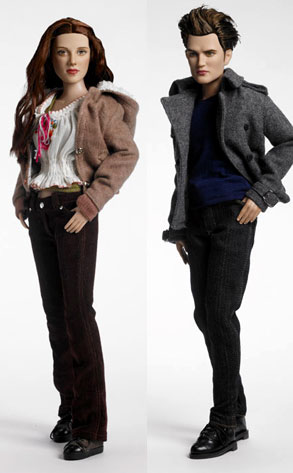 Dollmaker Figures It'll Get In on Twilight Action
Finally, a doll-lightful cure for the post-Twilight doldrums!

Fanggirls can pass the time until New Moon hits theaters by replaying and recreating moments from the books and film with their very own Bella Swan and Edward Cullen dolls.

Bella is 15 inches tall and modeled to look like Kristen Stewart, while Edward towers 2 inches over her and is meant to resemble Robert Pattinson (swoon). They both have hand-detailed face painting and multiple articulated joints.

The collectible figures will be available exclusively at TonnerDirect.com in spring 2009. According to the Tonner Doll Company, plans for creating likenesses of the other characters are in the works.

In other words, a perfect stocking stuffer for next Christmas.
LOL...not sure how I feel about those, but I had wondered if there would any 'toys' to come out of this.