Used the goat milk soap for the first time this morning. I've been using body wash and a shower pouf for so long that using a bar of soap was weird. Once I got coordinated though, I loved it. I suppose it will take a few more uses to see if it really makes a difference on my skin but it did seem to leave me feeling a little less dried out. I'm curious to see how it does on my face. And I've been told it can be used on hair too, although not everyone's hair responds the same way. I might give it a try, see how mine reacts.
Hubby was about to wash his hands when he got home from work and automatically reached for the Lava. I shook a finger at him and insisted he try the soap samples I'd gotten. He laughed and said my 'girlie' soap wouldn't do anything for his grime. I told him to use the hazelnut, the coffee grounds would help scrub. He scoffed at the idea but used it, then gave me the whole 'Ha, told ya' attitude and showed me his permenantly dirty-looking hands. I really don't know if that poor little soap sample did anything because A)his hands really are forever stained, and B)I don't think he used it a fair enough length of time. I'm thinking I won't be able to get my menfolk to use the regular bar when they shower either. They probably all think it's girlie soap. *sigh*
Well poo on them. I'm going to order more as soon as I'm done writing this.
So, today is October and as I said I would, I got all my Halloween stuff out. I almost didn't. I almost scaled it back this year. But what the heck...I hauled it all out like usual. Most of it is on the buffet, like always, and basically looks the same as any other year because it's just easier that way. *snort*

Something new this year is a box full of Halloween things that my mother-in-law didn't want anymore. I've actually had this box for a couple years but never dipped into it until now. Billions of haunted village pieces! I just placed them all on an end table that sits in the corner of the room.....

Crazy huh?? You can't even make out the individual pieces. It would be nice to lay them all out in some sort of actual village design but I didn't have time or patience today, and really don't have room for that. Maybe someday when I have my big beautiful wall-to-ceiling built-in shelves.

Put my new scarecrows outside too. I need more pumpkins, bigger pumpkins, and cornstalks, but for now they are all looking lovely in their spots.....

(Notice the Vikings gnome!)
And I took my lovely wooden tulips out of my big empty flowerpot and put some equally lovely fake Fall flowers in. Also replaced the Vikings flag with a brand new Halloween flag.....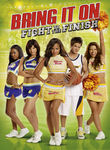 Bring It On: Fight to the Finish
(2009)
After her mom gets remarried, Lina (Christina Milian) says adios to her East Los Angeles home and readjusts to life in affluent Malibu, where the new girl pledges to whip her school's ailing cheerleading squad into shape. But will Lina's fiery Latin and hip-hop moves be enough to topple the ranking champions, led by the formidable Avery (Rachele Brooke Smith)? The spirit is back in this high-energy addition to the cheerleading franchise.
This is not a movie I would normally watch but I saw the preview so many times on the DVDs of other movies I've seen lately that I thought 'Why not?' And ya know what? It was pretty good in a just for fun sort of way. Even hubby watched it. We were laughing way more than we ever would have imagined, both of us loving the main girl's best friend. The romance part of the story was a bit boring and unnecessary but I guess you just gotta have the cute boy in these films, huh? But yeah, it was a fun little movie.

Now I'm off to order more soap!

Nite all!