We will be attending our very first Minnesota Vikings game! We bought tickets last night for the Nov. 29 Vikings-Bears game. WOOT! Going to a game is one of those 'We should go' things that would get mentioned from time to time but never acted upon. The whole Favre frenzy, and Minnesota having a great year so far (5-0, 1st place) must have been enough for hubby to actually want to do it now. The boys decided they don't want to go so it looks like a weekend away for hubby and me.
I was looking at hotels online last night but haven't made any reservations yet. Have to look a bit more today. I'm pretty excited about all this because we're actually going to be staying in the heart of Minneapolis. We're such smalltown folk it's unreal. I'm looking forward to all the big city stuff like seeing the nighttime skyline, taking the shuttle over to the train, taking the train to the stadium. Heeee! I'm such a dork! I think we'll even be there long enough to take the train to the Mall of Amercia, but it will be Thanksgiving weekend so it will no doubt be madness with the start of Christmas shopping.
I will be taking tons of pics!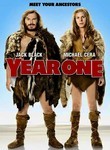 Year One
(2009)
Banished from their primitive village after the tribe elders deem them too lazy, Zed (Jack Black) and Oh (Michael Cera) leave everything they've ever known behind and embark upon an adventure-filled journey through the ancient world. Co-starring Hank Azaria, Oliver Platt, Olivia Wilde and David Cross, this epic-sized laffer is a collaborative effort from comedy giants Harold Ramis (Groundhog Day) and Judd Apatow (Knocked Up).
We watched this a couple nights ago. I am not a fan of Jack Black, and it wasn't as wild and crazy as I'd thought it would be but it was still quite funny. The two scenes with the ox drawn carts were possibly the best parts of the whole movie...a high speed ox cart chase?! LOL
I have two other movies sitting here but so many other things are keeping me preoccupied that even when I do sit down to watch I'm too impatient to remain. I haven't even been doing any reading lately, except at work. Even my renewed interest in UO (game) has been shoved aside for now as I continue my soap making obsession.
Ah yes, the soap! My fragrance oils finally came on Monday. I had ordered a 10 bottle sample pack with 10 scents of my own choosing. They also threw in an 11th bottle, a free sample of their choosing. There was a catalog in the box too. So that was all cool. Yesterday was my day off so it was time to make more soap. I was still leery about doing it after the fiasco with my second batch. I spent more time researching just how to add colors and scents, made a bunch of notes about what I'd done last time that probably caused the problems, and eventually decided it was time to just get back in there and do it. I'm not happy with the tray mold I used the first two times, so I searched the kitchen for possible alternatives. I also tweaked my recipe a bit using an online 'calculator' program. And then I had to decide which of my two soap ideas I wanted to make.
I decided on an Amish Harvest scent with baby food carrot puree/orange swirls in white soap. It's hard to see in this pic but there are yellow-orange and off-white swirls in there. Everything went alot better this time. The only small problem was that the smaller portion of batch, the part I put the carrot puree in, would not thicken up. It was taking forever, even with the stick blender, and when the main part of the batch was thick enough and ready to pour in the mold I had to just pour the orange part regardless. The white was a good swirling consistency but the orange was still quite runny. Hopefully the white was thick enough to sort of 'hold' the orange in place.

My first two batches went into gel stage very early, very easily. This one didn't even have the first tiny signs of gel until about fours after pouring. By seven hours it looked like it was in full gel stage, so I suppose that's good. I wonder though if it was the carrot puree that slowed the thickening and the gel? I cut back the water amount like I'd read about. Hmm, I don't know. I checked it this morning when I got up and....about 16 hours in....it's still looking somewhat gel-ish but a slight little poke with my finger found it to be rather solid. I'll let it sit 24 hours like usual but I'm wondering if it will have to sit longer since everything else about it took longer. Guess we'll find out. I can't wait to see if the swirls turned out!

Hopefully the soap making book I ordered will come today. I'm also looking forward to this weekend because hubby will be building me some wooden molds and a cutter. Although, I'm curious to see how this latest batch looks out of the mold cuz I used a regular bread loaf pan this time. I don't really like the size or look of the bars from my first two batches cuz they're like fat little chunks instead of lovely bars. This bread pan batch should allow me to get larger/thinner *bars*.

The more I read from that group I joined the more intimidated I am about ever trying to actually sell my stuff. I realize I'm a long way off from that point anyway but just thinking about it.....gah. I guess it will have to be something that I totally throw myself into if that's what I want to do. I will need to study and learn and invest time and money. It was fun the other day at work, thinking about possible 'brand names' and label designs. I'm totally open to suggestions, people!!! I have a few ideas already.

I'm also finding I absolutely love the look of the old time, or the 'rustic' type soaps. You know, the simpler colors that have speckles of things like petals or spices throughout. Well, ok, I absolutely love the look of the beautiful 'I wanna eat it!' type soaps but something about the other types seem like the route I want to go. I was reading that the pretty soaps, the delicate shaped molds types end up being decorative...so people don't use them, so they don't buy more. If I'm doing this I want something I can keep selling.

I might ask on the board, see if I can 'borrow' some pics of some of the amazing soaps people over there have made.

Enough about soap. If you're still reading, I thank you. LOL!

We've started a new mini-obsession here....the Wii game Boom Blox: Bash Party. And now I must go play.