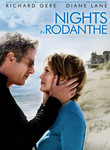 Nights in Rodanthe
(2008)
With chaos tearing her family apart, Adrienne Willis (Diane Lane) takes a weekend job at her friend's coastal North Carolina inn, but when a hurricane hits and strands the only guest, surgeon Paul Flanner (Richard Gere), Adrienne's life changes forever. As the storm rages outside, Adrienne connects with Flanner, who came to the retreat to escape a personal crisis. Scott Glenn co-stars in this intimate drama based on the novel by Nicholas Sparks.
Nicholas Sparks = tearjerker. That's a given. Even so, this was a sobfest. Oh my god, I loved it. I was already pretty much a blubbering baby but when the ponies ran by I just lost it. LOL!! I guess I should have expected what happened but I was so absorbed in the story that I didn't see it coming, totally forgot that's just the way his stories seem to go. Maybe that says something for this story? That I was caught off guard, I mean?
I really like Diane Lane. She's come a long way since 'Cherry' in The Outsiders! I like Richard Gere too, but it's funny because if you ask who my favorite actors are I always seem to forget him. They're very good together in this movie. And there's a little bit of James Franco in here too, so how can you argue with that?
Just be sure you have a huge box of Kleenex.....heck, just grab a towel.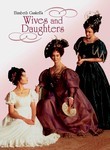 Wives & Daughters
(3-Disc Series)
(1999)
Family life changes drastically for the good-natured Molly Gibson (Justine Waddell) when her widowed father (Bill Paterson) decides to remarry, and a woman with her own set of rules (Francesca Annis) -- and a beautiful daughter (Keeley Hawes) -- becomes her stepmother. Award-winning screenwriter Andrew Davies (Bridget Jones's Diary) penned the script to this four-episode BBC miniseries based on Elizabeth Gaskell's unfinished novel.
I was looking forward to watching this one too, only to find out that they sent me the disc with the bonus material and not the show itself. *grrrr* Oh well, I'm worn out from watching the other one.
My soap 'catalog'.....maybe it should be called a portfolio instead? I've gotten some rave reviews about it and I thank you all for whatever support you give me in my crazy endeavor. However, since we are our own worst critic, I'm not happy with the pics. For as much color balance tweaking as I need to do with the lightbox pics, it makes me wonder what the joy of a lightbox is supposed to be...?! If you scroll thru those pics in the previous post and pay attention to the background 'white' you can see how varied it gets. I gave up trying for white and just tried to get the colors of the soaps to stay. I'm thinking my camera is also not able to get such closeup, fine detail either. Maybe there is a different setting I need to use? Not sure. And the props were just improvised with whatever I had available. If I ever get to the point of selling online, I will definitely have this photography down pat by then.
Today is the second of my days off and I've been fighting the urge to make more soap the whole time. I've forced myself to stop for now until I know how these current recipe variations perform. Ideally the soaps should sit for a minimum of four weeks before being used. That gives the bars time to harden up and mellow out, to settle into what they're going to be. Many experienced soapers tell me the soap only gets better over time. Having said that, I've recently learned from the same soapers that if your're just testing for yourself to see how a recipe is you can use it as soon as it's hard enough to handle. This will make things way easier!! So I'm starting to test different bars of my earlier soaps now. Some are at the four week mark anyway, but some are younger.
I gave out four bars of my very first batch (the plain one) at work last week. One was to a girl who is really excited about all this and wants to get into the craft herself. One was to a longtime friend who 'seemed' interested. One was to a guy who insists he can't use regular soap. And one was to a girl I'm sure only wanted it because of the tag-along factor. I also tried it myself.
Feedback from the guy was "My wife says your soap smells very nice." What? It's unscented. When asked if he tried it himself, he said no, "I don't like trying new things."
Feedback from Tagalong Girl was "I like your soap." When asked if it was drying at all, she insisted it wasn't, that it felt fine. She said her boyfriend liked it too. She said she did not use it on her face because "I don't use soap on my face!" (in a horrified tone).
Feedback from Longtime Friend was nonexistent until I prodded for it. Then she seemed awkward about and said it was fine except that it made her face dry and she had to put lotion on. Fair enough, but I don't believe her. She seemed to just toss the info out quickly and avoided looking at me...as liars are known to do, heh. Her manner leads me to believe she has no intention of switching to handcrafted soap anyway and probably only expressed early interest to humor me. Oooh, maybe she thought I'd never stick with it to the point I've gotten to?
Feedback from Excited Girl has been the best but also slightly unreliable. She first said she felt dry and itchy but later said she didn't. After thinking about it, she wondered if the initial dry/itchy was just from switching products. She has sensitive skin and says this happens when she switches. She says her red dry patches are not as red with my soap. She said it appears to be helping on her toddler who has extremely dry and sensitive skin.
My own findings were that this plain batch left my hands and face feeling dry and tight. I've had to go back to using lotion, which I have not used since I switched to that first goat milk soap I'd ordered back at the end of September. I found there was not enough lather and it didn't last long enough. Oh, forgot to mention that the other three girls all claim the lather was fine.
Hubby and I went ahead and tried the second batch (cocoa swirl one) next. He liked it, said it felt great, lathered great, no dryness. He said the scent was fine in the shower but we couldn't smell it on him once he was out and dried off. When I used it I found the lather to be a tiny bit better than the plain bar, and there was a wee bit less dryness in my face and hands. I don't understand that because it's the same exact recipe. A girl at work wondered if the cocoa powder or the fragrance oil may have done that....? I have not had anyone else try this batch yet. Will hand some out at work tomorrow.
Ty tried the third batch (carrot swirl one). He said the lather was fine, no dryness after. He didn't pay attention to the scent in the shower, said he couldn't smell it on himself after. No one else has tried that batch yet. Again, will hand some out at work tomorrow.
This was when I learned you can test your own stuff sooner than the normal four weeks, so I jumped ahead and tried the first goat milk soap I'd made. I think my expectations were too high. Maybe I thought the simple addition of a bit of milk would change everything. It didn't. Maybe the lather was a little better, not enough to have me consider it acceptable though. Maybe the dryness was a little better too, but again not enough for me to be happy with. And really, the recipe is the same except for the goat milk so why was I expecting so much? *sigh* Now I'm really really anxious to jump ahead to my most recent ones. One has sugar in, and I've read that sugar will make it extra bubbly. That right there would be a step in the right direction as far as I'm concerned!
So what did I do this morning? In a frustrated act of 'Screw it!' I grabbed the good ol' bar of Goat Milk Stuff soap that I'd ordered and used that instead. It was wonderful compared to mine. *grrr*
Because of all this I've been stressing myself out about how to alter the recipe to get something better. I've always wanted it to be something I can make with only readily available ingredients. I don't want to have to be ordering special oils or ingredients. If it's going to come down to that I'll probably give up and just order soap from other crafters. Then I have people on the forum telling me not to fret so much about it. They tell me to just play around with what I have and something will work out. They tell me not to worry so much about what others might think but to make a soap that satisfies ME first and foremost. Well, that's the problem, isn't it? I'm *not* satisfied with what I'm getting from my available oils. It's also frustrating to have the forum people keep telling newbies not to worry so much and to just play around, yet those same experienced soapers talk amongst themselves about the exact same things....'Have you used so-n-so?' 'What will so-n-so add to it?' 'How much so-n-so do you use and how do you use it?'
Bleah!
Remember I ordered those RenFaire themed bars recently? They arrived late last week.....
They look fabulous! But the scents are not pleasing to me....lol That is no fault of the maker though, so don't think I'm trashing her. I guess I shouldn't be surprised since they are not your typical 'pretty and popular' scents, but wow...I don't know if I can use these. I will at least try them to be fair. She also sent a freebie, a little container of Calendula Comfort Salve for dry spots like heels and elbows. It's so neat to think it's homemade. I'd like to learn how to make the whole bath and body line of products as most soapers seem to do, but for now.....I need to master the soap.

And I think I'll head back to Goat Milk Stuff and order a few more bars since it looks like it could be a while before I have something acceptable of my own.

*heavy drama queen sigh*