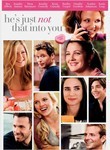 He's Just Not That Into You
(2009)
Jennifer Aniston, Drew Barrymore and Scarlett Johansson lead an all-star ensemble cast of characters dealing with the pitfalls of love and human interaction in this big-screen adaptation of Greg Behrendt's best-selling book. Set in Baltimore, director Ken Kwapis's film moves swiftly between a host of storylines brought to life by a stellar lineup of actors that also includes Jennifer Connelly, Ben Affleck, Ginnifer Goodwin and Justin Long.
This one was pretty good. Most of the storylines had predictable endings but getting there was interesting. I really liked the Gigi character...need to check what else that girl has been in. Drew Barrymore was hideous in this one, but then I'm not a fan of hers anyway. Not really sure why Scarlett's character got pissy at her man....she knew all along he was married and he kept saying no but SHE kept pushing. So he banged his own wife....? Did she think he would be giving that up? Did I miss something? Overall though, pretty good movie. Kinda chick flickie perhaps but hubby seemed to enjoy it without too much eye rolling.
In today's soap pot.....
Made three more batches today. One had fresh cucumber puree, one had fresh avacado puree, and one was just Cranberry Citrus fragrance oil. It was funny because that oil smells just like Juicy Fruit gum! At least that's what we think in this house. I guess that one would be a hit with kids, hehe. All three that I made were goat milk. Heck, all that I make now are goat milk so I guess I don't need to mention that.
Got a text report from my one co-worker (Excited Girl) saying the pumpkin spice soap I'd given out the other day at work melts fast and leaves brown streaks down the shower wall. I hadn't told her to keep them out of water when not actually lathering up because yes, most homemade soaps to melt faster than store bought concrete hard bars. She said the scent was good in the shower but nothing lingered on her skin. This is the only feedback I've gotten from all the soap I gave out a couple days ago.
I cut my nasty-scent soaps from yesterday. Actually I think I pulled them out of the mold too soon because they were still quite slimy and soft on the sides and bottom. I let them sit all day in the open air and they were at least firm enough to cut this evening. The scents seem to have tamed a little....thankfully! Still can't imagine who would want to use there though!? Noticed the gel stage didn't make it to the edges on these. *grrr* I guess that's my fault cuz as soon as I saw the hot spot bump/crack on them I pulled the cover off. The ones I made today though, I just left the covers on and peeking has shown that gel made it to the edges. I'll leave these in the molds the full 24 hours before even bothering to pull them out, just to be sure they're ready.
Moved my already curing bars around this evening and I just really really want to try those! The oatmeal/honey and brown sugar ones are in that set. Still have a couple more weeks to wait on those though.
Tomorrow I'm going to try making those Smelly Jelly jars. I have everything I need, just haven't gotten around to doing it yet. I don't think I have enough jars but I'll use some of those glass globe type candleholders that Glade candles used to come in. Maybe. Have to do some digging and be sure I have enough. Will post pics whenever I manage to get them made.
My new thing I want to make is homemade suet bars for bird feeders. I've thought about this before but never acted on it. Hubby and I were out shopping today and he mentioned a co-worker of his makes her own so that kicked my ambitions into gear.
Actually I *really* want to make some body butters and lotions! Crazy, I know. I've been putting off learning about these because I figure learning soap is enough for now. Today I couldn't help it though and was reading a little bit about making them, and even looking at some on Etsy. I do think I eventually want to make a whole line of products though. *dreamy sigh*