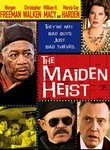 The Maiden Heist
(2008)
Over the years, museum security guards Roger (Christopher Walken), Charles (Morgan Freeman) and George (William H. Macy) each fall in love with a particular work of art in their care. But now, the new curator is shipping out all three works in an overhaul of the museum's collection. Desperate to save their favorite pieces, the men hatch a plan to steal them before they can be shipped away. Marcia Gay Harden co-stars.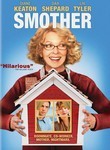 Smother
(2008)
After being fired from his job, therapist Noah Cooper (Dax Shepard) returns home to discover that his loud, pushy mother (Diane Keaton) has left her husband and plans to live with Noah and his lovely wife (Liv Tyler) indefinitely. Now, the put-upon therapist has to cope with his outrageously overbearing mom while he also fends off his wife, who desperately wants him to sire a child, and tries to find new employment. Vince Di Meglio
directs.
Both of these movies were cute and harmless. It was quite refreshing to watch something that wasn't loaded with sex, violence, gore, swearing. I liked them both. If you're bored and come across either of these, give them a chance.
Moving on....
I am such a dork. Such. A. Dork. Ok, so I've been obsessed with making soap and currently have about ten batches sitting out for their curing time, and what did I do today? I *ordered* two bars from someone online. And they're not even goat milk soaps! I couldn't help it though. Anyone who knows me will know why
THIS
sucked me in. Renaissance, alchemy, dragons....woot! I came across this site while reading at the soap forum today. I'm also addicted to browsing Etsy.com for soaps, but haven't ordered any yet. Until today I'd always held off because 'You're making your own. Why order someone else's?' I don't know....I'm thinking it might be easier and more fun to just order and try new soaps instead of the frustration of making it.
*grumblegrumble*
I also spent alot of time today just browsing the varieties of soaps other people make, started compiling a list of them and what they put in them. There are mixes like Lemongrass Mint or Lavender & Clove that I would never think of on my own. I was looking at the spices selection at Walmart today and found several things available that I've seen listed in soaps. It's expensive but this is the path I want to travel if I keep making soap.
And ya know, that's another part of the frustration for me. It's going to be hard to convince the people I know to give handmade soap a chance. When they see the price they'll snort and roll their eyes and think soapmakers are crazy when they can just run to the store and buy something alot handier for way cheaper. People think of homemade soap as boring, harsh, ugly Grandma's lye soap. Most of the people I know do not have the patience to listen or the interest to learn that handcrafted soaps are better for them. They'll see the price and scoff.
Then again, I am so far off from being ready to sell anything that I don't know why I worry about it. I have *SO* much to learn yet, and not just about making the soap. I don't have a clue about business or websites or any of that. Some people make it seem so easy, and others make it seem so frightening with talk of insurance and license and taxes and labelling and and and..... But I can't just cancel out the idea because I don't know about something. I've done that way too much in my life. This is something that is do-able. I just need to make up my mind to do it.
I was reading a bit about infusing today. You know, flower petals or spices or whatever, soaking in olive oil. Tons I don't understand about that but apparently it's common in soap making so I guess I should start learning that too.
Funny too, thinking about my variety of fragrance oils. I was sooooo excited to order and finally receive them. Now I don't think I even want to use them. To be fair, I can't remember offhand just what I have anymore, but if all they are going to do is scent the soap without turning it any color I will have a large amount of plain tan goat milk soap with different scents. Bo-ring. Maybe I can trade with someone on the forum... free fragrance oils in return for some bars of soap. hehe
The three soaps I made yesterday seem to have turned out ok. At first I was quite impressed because they all looked very nice when I unmolded them....
Once I cut them though I saw quite a color difference. They don't look horrible, but they don't look nearly as light and creamy inside. This is from going thru the gel stage. Some people prevent gel. I haven't been too worried about it so far. Maybe down the road I'll try preventing it. But for now....

Cinnamon & Balsam Goat Milk Soap

(Quite red but has a yellow-orange tint inside. Smells more medicinal in the goat milk than in the water batch I made previously.)
Warm Vanilla Sugar Goat Milk Soap

Oatmeal, (goat)Milk & Honey Soap

(I thought it would be so much darker from all I've heard about using honey. Maybe it will darken over time? The scent is not very strong either, but it's all natural.)
Not bad, eh? Let's hope they stay looking even half this good. Yep, I'm considering more and more just throwing out all my earlier stuff.

Alrighty, well, I already don't want to work the next two days because I want to continue on my learning mission. Work can't be avoided though so I guess I'll just head to bed now and get it over with. *sigh*