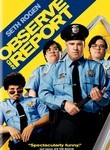 Observe and Report
(2009)
Rent-a-cop Ronnie Barnhardt (Seth Rogen) is tasked with keeping the peace at the Forest Ridge Mall, but when a flasher strikes, Ronnie has no gun -- and no power to stop the exhibitionist. A rivalry ensues when the police send in Det. Harrison (Ray Liotta) to crack the case. Can Ronnie bring the flasher to justice before the well-armed Harrison does? Anna Faris also stars in this darkly comic effort from writer-director Jody Hill.
This movie, surprisingly...sucked. I was ready to quit watching several times. Even hubby was bored. Usually we like Seth Rogen movie, no matter how inappropriate they are...lol Usually Anna Faris is hysterical. This one just bombed for whatever reason. Paul Blart - Mall Cop was a way better mall security movie. Oh well, bleah. Skip this one.
In soap news....
I took a shower using my very own homemade soap for the first time yesterday. I wasn't impressed. *sigh* It didn't lather much and that lather didn't last long enough. It rinsed away cleanly, but my face and hands had a noticeable dry/tightness. I was kind of surprised, but also kinda not because it was just a beginner, basic, plain-jane learning batch. Still, I gave out four bars at work and told my biggest supporter (Jessie) that I need a full review no matter how good or bad it may be. It was funny how many people were oohing and aahing when they saw the four bars I'd handed out. One guy even asked "Where's mine?" Ha, cool! I told him I'd bring him on next time.
Used that same soap again this morning and had the same less than stellar results. Later in the morning Jessie was texting me with her soap review comments. She said her little boy had gotten face paint all over him so into the tub he went and she used my soap. She was happy to report it gets rid of face paint no problem at all. She also reported that it seemed a little drying and it felt like her legs were a little itchy. *SIGH* After my own experience this didn't really shock me but it was still disappointing to hear it confirmed. I was back to really seriously considering tossing those early batches again. But then later in the day she texted again saying she wasn't dry and itchy afterall, and her usual red dry patches were not as red today. She likes the soap and thinks it works fine. I texted her back, asking what the early itchy dryness was then, but she has yet to reply.
I was telling hubby all of this when he got home from work. He said he would try my soap and give me a review. He decided that since my cocoa swirl batch (#2) will be officially ready to use tomorrow, he wanted to use that one. Into the shower he went. He came out with a report that it lathered just fine, and the lather lasted all thru his shower. He reported no signs of dryness or tightness. He said it felt way better than the store bought bar soaps he always uses. (I am leery of this comment though. Seems like a bit of extra morale booster-ness, hehe.) He said the scent was strong and wonderful in the shower but we couldn't smell it on him once he was dried off. Hmm. I think I will try this one tomorrow morning.
It was soap making day today! First I made a quickie trip to Walmart to pick up a few things, including a fresh jar of baby food carrots. I stopped to look at the spices again but decided to wait until I've ordered my next oils. Then I came home and tried to decide which of the many many ideas I wanted to make today. I can only do three at a time because I only have three molds. If I'm on the ball tomorrow I can make three more once these current ones come out of the molds. Heheeee!
Today was my most adventurous soap making. The first batch was honey and carrot puree in goat milk. Everything went smoothly and it was a lovely pastel orange color when I poured it in the mold. It's gone into full gel and is doing nicely so far. The second batch was brown sugar and ground oatmeal in goat milk. This one was a little trickier because you have to dissolve the sugar first in the water you use to mix your lye. Again, everything went fine. I even sprinkled a wee bit of brown sugar and regular oatmeal on top after it was poured into the mold. It's a very light tan color and was just about full gel when I last checked. And the third batch was pumpkin (Libbys canned) in goat milk. That too went fine, and was a lovely light orange when poured into the mold. I sprinkled a tiny bit of pumpkin spice on top. That one is also in full gel at this time. I can't wait to cut these tomorrow and see how they look! There will be pics if they are pic worthy.
I also tweaked the recipe again and have added sweet almond oil to it. I guess this will fall into the allergy alert category but oh well....I had bought this bottle back in the beginning and have been wanting to use it up.

And tomorrow I have so many more possibles that I really don't know which ones to do. I was planning on doing three scented ones but I'm just not sure. Guess I'll figure it out tomorrow.
Now it's off to bed to dream about more lovely soaps. LOL!