Anyone know any good blogs to follow? Blogs that are active, not a post every two months? I stumbled across
Not So Humble Pie
recently and was amazed. That's the one I'm currently hooked on. I also noticed two of the blogs I like to read do give-aways now and then. That would be fun. I'd like to do a give-away but I only have, what, three readers? Ha, I guess your odds of winning are pretty good then! What would I give away? Soap is always handy but again....most of my large pool of three readers already have free soap. Hmm, must ponder this. In the meantime I'm looking for more fun blogs to read. Hook me up, people. : )
Some things I missed this Christmas:
Angel Food (sponge) candy...

Divinity candy...

Ham dinner...

Watching Rudolph...

As we end 2009 it was very sunny but very cold here. It was in the upper teens early, quite breezy, and will be dropping as the day goes on until we're in subzero temps. I noticed gas was $2.61 today. We just paid $2.45/gallon for fuel oil for our furnace. Our Christmas tree is still up but the other decorations have been packed away for days already. I would do #1 songs, movies, etc....but I don't have that info readily available so poo on that.
We have no big plans for this New Year's Eve. I went to the bank this morning to make sure we got our checks cashed before the long weekend. I also took our big penny jug in....
The Dew can is in the pic for scale. It's 99% pennies in this jug, the occasional nickel or dime was mixed in. It weighed a freakin' TON and when it was cashed in I ended up with $54.06. Whoa! We were not expecting that much...lol

Anyway, did the banking then hubby and I went to town because he needed something from Menards and I wanted to get groceries. Of course we had to check out the Christmas clearance stuff at Menards. Tons of stuff we loved but we were good and bought none of it. I did buy Christmas cards for next year though. They were 50% off and they were so dang cute. There were four or five designs that I loved. Hubby told me to get them all but I settled for two. Hope I still like them when it's time to send them out next year! We were very good in Menards overall this time. You might remember that we always tend to overspend there. We were quite proud of ourselves today.

Then it was over to the Evil Empire to get groceries and whatnot. Usually I go very early in the morning when the danger of encountering The Stupid Ugly People is at its minimum. Today we were there about midday and wow....it's a whole different experience trying to shop then. I bought a second tart warmer because I'd like to have a more overall scent in the house, not just in the area of my desk, especially if I'm going to be making my own tarts. Hubby pointed out all of the fragrance oils and wondered why I didn't just buy from there. I tried to explain that not oils can be used for everything....just look at the Hobby Lobby oils?! He had a bit of man attitude, like 'They're here in the smelly stuff section. They're for oil burners. What's the difference?' Fine fine, just to humor him I bought one. I made a batch of tarts this afternoon, crossing my fingers when I added the oil. I admit my surprise...nothing bad happened. The oil seemed very weak though, even smelling it right from the bottle, so I used way more than what is usually recommended. We'll see what happens when I melt one, maybe tomorrow.

Finished shopping and came home to find our third son Matt here again. Yeah, the boys have nothing happening on this lovely New Year's Eve either. So, just like Christmas, it's been the menfolk playing video games and having Yugi card duels while I putter around on the house and stare at all the things I want from Etsy.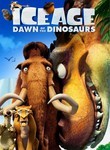 Ice Age: Dawn of the Dinosaurs
(2009) Times are changing for moody mammoth Manny (voiced by Ray Romano), motormouthed sloth Sid (John Leguizamo) and crafty saber-toothed tiger Diego (Denis Leary) in this third installment of the beloved computer-animated children's franchise. Life heats up for our heroes when they meet some new and none-too-friendly neighbors: the mighty dinosaurs. High jinks and hilarity ensue in this fun family adventure that's packed with celebrity voices.
We watched this today. I had a coupon from a jar of Nutella, so we bought it today. It was cute. The animation always amazes me. Hubby says the other ones were better, that they 'tried to hard' on this one. I don't remember much of the first ones because we watched them quite some time ago when most of us were sick and zombielike, camped out in front of the TV.

We also played Wii for a while this evening because we were all so bored. Hubby had been playing one of the Resident Evil games then turned it off and was watching stupid crap on TV. Total boredom, like I said. So I put Boom Blox in and he and I started playing. Eventually Casey wanted to play so we let him join after a while. Then Matt wanted to try so we let him join in too. It was fun for a while, we were even yelling and cheering for a while, then it got boring like everything else. Back to crap TV, Yugi card duels, and puttering around on the internet. Now it's 10:30pm and I'm not even going to try staying up till midnight. I'm going to post this and read a few pages of my newest book before sleeping away the last of 2009.

Happy New Year, everyone!