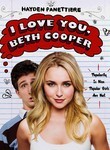 I Love You, Beth Cooper
(2009)
When bookish high school valedictorian Denis Cooverman (Paul Rust) uses his graduation speech to express his adoration for resident hottie Beth Cooper (Hayden Panettiere), he gets the shock of his life when she responds by showing up on his doorstep that very night. Based on the popular novel by Larry Doyle, this charming coming-of-age tale is helmed by director Chris Columbus (Harry Potter and the Chamber of Secrets).
We watched this last night. It was funny, cute...reminded me of the '80s classics like Sixteen Candles, etc. The end was sweet, the little talk they had about their futures. I liked the best friend. I looked him up on IMDB and he was played by Jack Carpenter but I haven't seen any of the other things he's been in...
I recently had Wuthering Heights here (from Netflix). I tried to watch it....twice....and just couldn't get into it. I've never read the book, so I really wanted to cheat and see the movie. Not sure why I didn't like it, if it was the actors or what. I might have to just read the book. Or find a different movie version.

We also had Lord of Illusions here....

Horror maestro Clive Barker directed and wrote this gruesome tale of modern-day sorcery set in the world of professional magic. When a top magician dies during his act, Los Angeles psychic investigator Harry D'Amour (Scott Bakula) is drawn into a chilling plot to resurrect a satanic cult (with a nod to the horror classic Black Sunday). Kevin J. Connor plays D'Amour's nemesis, the warlock Phillip Swann; Famke Janssen
co-stars.
I'd put it on my list long ago because my movie watching co-worker insisted I needed to see it. I guess I wasn't paying attention to my list because when this one came I was like 'What the heck? I don't want this.' Hubby had already seen it years ago and didn't like it, so I sent it back without watching. *snort* I just haven't been in a movie mood lately. Now I've bumped things up that my menfolk will watch, things it doesn't matter if I watch or not.

FINALLY got the other thing from Etsy! It took almost a month, which did not make me happy. I debated about what feedback I would leave....I mean, a month to get something? And a serious lack of contact, with almost no explanation. I was kinda thinking ok, I better get some little freebie in that dang package. I was torn on what I'd do if the product was so awesome it would deserve positive feedback. But first, let me tell you what I bought and why I bought it.

You know by now that I'm all about homemade bath & body products, right? This was actually the first thing I ever bought off Etsy. Before the lip balm addiction I was fascinated by body butter. I remember sending my sister a link to some 'Twilight inspired' products and laughing about the idea. So when I decided I wanted to try body butter I went back to that link and spent some time snooping around that person's Etsy shop. New Moon had just recently come out and I figured 'Ah, why not?' and ordered the Bella's Birthday scent body butter.
The description:
We were so delighted to create this wonderful fragrance! "Big bowls of flowers - Pink Roses – lined the wide stairs up to the front doors….. Alice, I assumed, had covered every flat surface with pink candles and dozens of crystal bowls filled with hundreds of Roses… there was a table holding a Pink birthday cake, more roses…" What a delightful fragrance to create! We saw a glimpse of what it will look like in the New Moon trailer, and how beautifully Alice decorated the Cullens' home. Pink and Red Roses everywhere, Pink candles, and a huge Birthday Cake. Now you can experience the party for yourself, before it turns into a fateful night that will change Bella's live forever.

Scent: BELLA'S BIRTHDAY – a delicious and sweet fragrance that filled the air during her Birthday Party. Experience the decadent Vanilla Cake and colorful Buttercream Frosting stripes blend with luscious Pink Roses and soft Daisies. We've also included a touch of our Alice fragrance, as she's the magnificent Cullen who made this beautiful scene happen! Beautiful, of course, until the Paper Cut Incident.
LOL! I'm a dork, I know. So anyway, it was taking forever to get it and in the one message I got from the seller (after *I* contacted her) she mentioned being swamped by the movie premiere because she is a vendor. I don't know exactly what that means but I gave her benefit of the doubt and thought maybe oodles of people were ordering the 'Twilight inspired' line of products. I know her stuff has been featured in magazines and things so.... *shrug* It just seems that a bit more contact or explanation would have been good, especially if she does have such a 'professional' shop. But whatever. It finally arrived today and I decided to leave positive feedback because the body butter is quite nice. It's actually more of a pink color than the pic shows. The scent is quite strong but it grows on you. I quite like it now. And it works pretty dang great! There might be a wee bit of a greasy feeling but not enough to be "Yuck!" and drop everything you touch. It's more that the product is still working on your skin instead of gone in seconds like the commercial stuff I'm used to using.
Having said all that, I ordered another body butter from a different seller yesterday. When I ordered that first one I really didn't know diddly. I just dived in with a 'Homemade? Gotta be good!' ignorance. In my month long wait to get that one I started reading more about homemade lotions and things. I've started seriously thinking about making my own, so I've been much more aware of ingredients. The Twilight one, while homemade, is quite full of extra stuff that doesn't really need to be there. The one I ordered yesterday is a very scaled down, all natural variety. And this one is shipping insanely fast. Within hours of ordering she contacted me and let me know it had shipped already. I'm thinking it might be here tomorrow. I can't wait!
In soap news....I almost gave up earlier this week. I got overwhelmed and frustrated by the idea of it all, again. The last few batches turned out visually crappy. I decided it wasn't worth the hassle when it's so much fun to just shop from others and buy/try what I want. So I spent a couple days not even worrying about soap or business or anything like that. In my mind I *had* given up. I was becoming more and more obsessed with the idea of making lip balms and body butters. And then suddenly I had an urge to make soap. And the two I made yesterday (Vanilla Lavender) turned out waaaay better than my previous ugly ones.
But I'm still plagued by thoughts of 'I can't do this,' as far as selling goes. Some seriously arrogant assholes on the forum I go to (only lurk now) really did a job on my confidence a couple weeks ago. I shouldn't let it bother me because they don't know me....but it does bother me. A lot. What if they're right? I know I have tons to learn, but who says you can't start out simple and improve as you go? So set up an Etsy shop and dive right in. Right? Except I need to build up stock, and I don't know what to make. There are sooooo many cool ideas and wonderful scents out there. How do you know what to start with? And THAT is my current frustration....what to make to get started.
So I ask my fine readers, if you were browsing soaps...what would you buy?