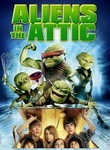 Aliens in the Attic
(2009)
The Pearsons' summer rental house has it all: plenty of room, a swimming pool and a space alien camping out in the attic. The kids can't help but love the cute little guy, until they learn that he's not alone, and his buddies aren't as nice. Now, what started as a summer retreat has become a brave quest to save the planet. Ashley Tisdale, Kevin Nealon, Doris RobertsAndy Richter star in this comic family adventure.
This was kinda cute but not something I'd buy or watch again. The blond boy cousin was cool. I see he did a bunch of TV shows like iCarly, Zoey 101, etc. Then I found the girl who played the older sister had also done a bunch of those shows. Heh, why does it always seem to work out that way? Was it made by their parent company or something? I also saw that the dude who played the main character (who I did not like and thought was ugly and annoying) was once on Lost! At first I was 'No way!' cuz I would remember him, then noticed it said he was uncredited and did the voice of 'young Tom,' which means he was the voice on the cassette tape that Kate and Tom put in their little time capsule. That's funny.
My other body butter did not arrived today. Bummer. But I'm loving the Bella's Birthday one. I've decided it *is* a bit too greasy but I'm still loving it. The scent hangs around for a long time. That's cool because the soap I'm currently using doesn't have a lingering scent. I slather this greasy smelly loveliness onto my feet and knees and elbows and hands after my shower and I'm smelling like cake for many hours. Woot!
Did I mention in yesterday's post that I'd spent half the day trying to get my Christmas shopping done? I thought I had a pretty good list and could get every last thing I needed. But, ha, as always, things never work out that way. I gave up the fight and decided I would try again today, different stores, different town. And yeah, that didn't work out either. So I wasted a few hours again today. The only good thing that came out of it was that I came up with a couple ideas for those last hard to buy for people on my list. I will try AGAIN tomorrow morning. Sometimes I hate Christmas.... *grrr*
This is what I did with the rest of my day:
I made a pan of SpecialK bars and a batch of Christmas cookies. I was going to make Puppy Chow too but forgot to get Chex cereal while shopping. *GRRR* I'm not doing much for baking this year. And wouldn't you know, the one batch I did make turned out somewhat sucky. Oh well....

I'm pretty sure my California friend had her baby today! Or is in the process of it....hehe. I've never actually met her. We're online friends, met years ago on a Lost messageboard. She was due Wednesday. She left a message during the night last night saying she was having contractions, and I haven't heard from her since. Woohoo! I'm not close enough to the family to be among those who get the big announcement. So I keep checking Facebook for any news or messages. I'm excited. And anxious. And desperate for news! lol