Suzanne's Diary for Nicholas (2001) by James Patterson

Katie Wilkinson's boyfriend Matt dumps her; not a total cad, he leaves her a gift, a diary kept by Suzanne, his first wife, for their son Nicholas. Though it's not exactly the diamond ring Katie was hoping for, she's unable to make herself destroy the diary--against her better judgment, Katie begins to read.

Drawn against her will into the other woman's world, Katie learns of physician Suzanne's heart attack at age 35 and her decision to slow down, accomplished by a move to Martha's Vineyard and a new job as a simple country doctor. When love comes knocking, in the form of housepainter-cum-poet Matt Harrison, Suzanne is ready to listen to her newly repaired heart. Though painful for Katie, she begins to know and like Suzanne and her infant son Nicholas. Suzanne's devotion to Matt and their son shines through, as well as her plainspoken wisdom. While the journal helps Katie understand Matt, whether they can write a future together remains in question. --Alison Trinkle
My sister gave me this book earlier this year and I've just now gotten around to reading it, finished it last night. It was ok, started out interesting but then just got overly sappy and 'Who really talks/writes like that?' (It's supposed to be a diary, remember.) Then it just became a mission to finish because I'd started it, and because it was given to me, and because I needed to at least see what happened to Suzanne. Yeah, you pretty much figure out the basics early on but the details were a bit of twist.

While looking for the cover image to include in this post I discovered that this had been made into a TV-movie back in 2005. I'm debating whether I want to see it or not. It's kinda like with New Moon....maybe the movie version will be better because it removes some of the sappy writing. I'm thinking maybe this movie will be a cheesey tear-jerker, which I'm sometimes ok with....lol I've added it to my Netflix list but not sure yet if I want to bump it to the top or not.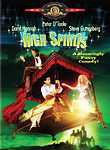 Peter Plunkett (Peter O'Toole), the owner of a debt-ridden Irish castle, hatches the perfect plan to save his abode: Lure American tourists by advertising the place as haunted. But when Peter and his staff gamely don sheets and chains as part of their ploy, they scare up more than tourists when the real ghosts of Castle Plunkett decide to join in the fun! Co-stars Steve Guttenberg, Daryl Hannah, Beverly D'Angelo, Liam Neeson
and
Jennifer Tilly.
(Wow. I don't know why nothing in this post is working today?! I can't place things where I want. The cursor just goes where it wants. Commands are not working. *GRRR*)

Anyway, we watched this movie tonight. It was recommended by a co-worker and has been on my Netflix list for quite some time. It just worked its way to the top naturally, finally. And man did this movie suck! I didn't even finish watching it. Hubby didn't think it was nearly as bad as I did. He was laughing at parts and made it thru to the end. I can't even say why it sucked......if it was bad acting, or crappy story, or what. Even with all those big names.....bleah, nope, sucked.

In other news...

Hobby Lobby is closed on Sundays. Glad I looked at the website before forcing hubby to take me there. I guess I'm ok with my lack of tart making for now. I was a little crabby about it this morning. My day got busier though and I had enough things to keep my mind occupied.

My mom called this morning and said she'd be over at BrotherGary's today to do Christmas gifts, since she'd missed our gathering on Christmas Day. Hubby and the boys were busy with friends and video games so I went by myself. My brother Tom and his wife Yvonne were also there, as well as my grandniece Addie. (I don't like great-niece. It's like a generation is skipped that way.) This gathering was the most holiday-like so far. Maybe because there were presents being passed around and wrapping paper flying everywhere and twenty conversations going at once. Their tree was still up, decorations still up, holiday munchies still set out, so it was all still very Christmas-y. I stayed about two hours and then came back home.

Matt was here pretty much all day again. He's a nice enough kid, very quiet, doesn't get in the way or anything, but geez.....it would be nice to have just us for a while. And I still wonder what his home is like that he chooses to spend almost no time there. Ty's other friend Eric came over late in the day and spent most of the evening. He's nice too, quiet and polite and they usually just play video games in Ty's room but again.... when can the house be mine for a while? I keep thinking everyone goes back to normal schedules tomorrow but no, Casey has the week off school. *sigh*
I started a wee bit of undecorating today. Just some minor things. I kept having urges to start packing everything up but managed to resist. I'm thinking tomorrow alot of it *will* get packed up. I'm ready to get back to normal.
Before everything does go bye-bye, I just want to share what I've decided is my favorite Christmas card that we got this year.....
Well poo....the scan doesn't do it justice at all. It's actually really glittery and sparkly and has a blue-silver kind of shimmer all over it. Wish I would have done this for last year's cards. I already know which one was my favorite. Maybe I'll dig it out tomorrow and scan it. (Yes, I *do* keep all my cards!)

Alrighty, off to bed now. And hey, one good thing about Casey not having school is that I can sleep in! Hubby will up and gone early for work so maybe......just maybe.......I will actually be able to do this lazy thing I always hear about!