Yikes! I have so much to write about I'm not sure where to begin, but I better get started before everyone starts demanding something from me again....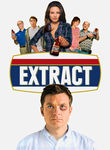 Extract
(2009)
Encouraged by his friend, Dean (Ben Affleck), factory owner Joel (Jason Bateman) considers escaping his problems -- an assembly-line accident, a potential lawsuit and a sexless marriage, for starters -- by taking up with the gorgeous new temp, Cindy (Mila Kunis). But does Cindy have something nefarious up her sleeve? Kristen Wiig and J.K. Simmons co-star in writer-director Mike Judge's (Office Space) latest work-set, comedic social commentary.
Loved. This. Movie! I'd never heard of it before seeing it in a Netflix recommendation. I'm glad I got it though because I was absolutely busting a gut over how perfect all of the factory behavior was. Honestly, that stuff could have been taken from our plant. Too dead on hilarious for anyone who has done factory work. I was never too gaga for Jason Bateman back in the day, thought he was too pretty boy, but he's aged well! Not overly crazy about Ben Affleck in general either but he rocks in this one. I think the only bad thing was that Gene Simmons looked very scary. *shudder* Ty watched it this morning before we sent it back and even he was laughing his hiney off. (He said he's seen commercials for it. Where have I been?) So yeah, I highly recommend this one. Go find it, people. Nooooowwwwwww!!
Yesterday I ended up making a quick trip to town because we were out of dog food and Ty needed a headlight bulb. I knew Walmart didn't have any tart making supplies so I stopped at Target, and was happy to find two pans that can be used for molds. (After more thought, I think one will be too big and I'll probably return it.) Then I stopped at Joann Fabrics because I'd heard they have candle making supplies. Ha, no they don't, but I did find more molds that could be used for tarts. I only bought one on this trip though. At least I know where to find some now.
So now I had molds. I already have tons of fragrance oils because I use them in my soaps. All I needed was wax...and do you think I could find any? When I got home I started searching and comparing online. I almost placed and order but then decided to give Hobby Lobby a try. Hubby and I went after he was done with work. They had these monster ten pound slabs of paraffin wax. They also had small one pound boxes. I wanted soy wax though, and I wasn't seeing any. I grabbed one of the one pound boxes of paraffin then had to wait forever for these two girls to move so I could check out the dye selection. Actually they didn't really move until I semi-rudely started nudging myself in where I wanted to be. I grabbed a pack of basic blue-red-yellow-green dye blocks and left that aisle in a huff.
Walking around the store a bit we found a center aisle display of candle making stuff and there was one bag of soy wax. I grabbed it! We continued browsing and found several mold possibilities. It was funny cuz I was content with just getting the wax and dye since I already had two molds at home. I was thinking I'd wait to see if I really liked doing it, if I was any good at it, if I really felt a need for fancy molds. Hubby was more insistent, saying "But you're already here. Might as well get them now." So we grabbed a couple small, cheap molds and I kept coming back to one larger pan of Christmas designs. Hubby was all "Go ahead and get it." Good thing I did because we learned at the checkout that it was 50% off. Heheee!
This morning I was so anxious to try making tarts. I tried finding more info online before I started but it's really quite limited. Most things just give a basic 'melt wax, add color, add fragrance, pour.' Well, how much color? How much fragrance? What temps? The endless questions I had were not getting answered so I figured it was time to learn by doing. I wasn't thrilled about possibly wasting wax but I was really happy that you know your results pretty darn quick....unlike soap.
Armed with the little bit of very basic info I had, I made my first batch. I used eight ounces of the paraffin wax, one of my partial 'leftover' bottles of fragrance oil, and chopped off a small corner chunk of the red dye block. It took FOREVER for the wax to melt. And then it was taking forever for it to cool down to the temp range I'd read was good to pour at. I admit it, I got impatient and poured it into the molds a bit hotter than recommended. Other than that everything seemed to have gone great. I'd read that sometimes the wax will sink a bit in the middle as it sets up. It was supposed to be easy enough to fix by just pouring a bit more wax on it. So that's what I did. The temperature must have really been off or something because all the bits that were from a second pour quickly started looking....icky. I think I got what they call 'frosting.' I was a tiny bit bummed but overall it had been so easy that I was happy and excited.
I don't remember how long the first tarts stayed in the mold before I popped them out. I don't even know for sure how long they're supposed to stay in?! Once I had those popped out and had a chance to examine them I was a little disappointed. They looked really rough. First time, first time, I know...but still.... So, what else to do but try a second batch! This one was a complete failure. DOH! I used the other eight ounces of the paraffin and decided to use a bit of yellow dye along with a flowery scent hubby had gotten me for Christmas. It was a Hobby Lobby fragrance oil that I was already leery of for soap. My second batch of soap had been with a Hobby Lobby FO and that's the batch that had become so thick so fast that I had to glop it into the mold. So when he got me more FOs from there for Christmas I knew I'd not be using them in soap, but didn't want to hurt his feelings by reminding him those oils suck. Silly me figured they couldn't do any harm in simple wax tarts. HA!!!! When I added the oil to the wax the fragrance oil just became a gel-like wormy looking glob within the oil, and no amount of stirring would break it down. And then the wax started to seize just like the soap had! I knew it was a loss but decided to try pouring it into the molds anyway. Enough liquid trickled out to make about six little hearts, but I doubted they'd have any scent. The yellow wax hardened but it seemed very thin and brittle and sure enough, almost no scent. I hung onto them to take a pic and show hubby, but they will end up in the garbage tonight.
Later in the day I decided to try the soy wax. I didn't really want to use a blah leftover fragrance but I didn't want to dip into the good ones yet either, not until I'm sure I can make a good tart. So I decided on another one of the leftovers and tried to make an orange colored wax. The color came out more salmon than orange, and the scent is not one of my favorites anyway, but the whole process was alot easier. The soy melted a hundred times faster because it was flakes. I was more patient and waited for the temp to come down more before pouring. I did not do a second pour, and really didn't need to anyway. The end result is about a thousand times better than my first two attempts! I think the biggest difference is the wax.
I went ahead and placed an order for some proper soy wax, and picked a few more dye colors. It should be here in a few days. I still have a pound and half of soy wax here, so I can make more tarts tomorrow if I want. I'm not sure how to get rid of the white lines and 'scuff marks' you can see on the pinkish-orange tarts in front. I think it's related to temperature. Wish I could find some decent info on this stuff!
While I know my tarts are far from beautiful, and I was just happy to have finally made some, it really didn't do much for morale when I got one of the tart orders from Etsy today.....
Hmm, I guess the pic doesn't quite show them in their full glory. I bought these from
Country Home Scents
, which can be found at Etsy. This is the Breakfast Blends Sampler pack and contains:
Country Berry Hotcakes
Morning Mocha
Blueberry Muffins
Cranberry Apple Marmalade
Apple Danish
Cinnamon Buns
I've had the Country Berry Hotcakes melted most of the day and it's wonderful. I will definitely order from her again, at least until I get my own figured out. Go check out her Etsy shop!
I also got my newest body butter order today. How funny that with my current tart obsession the arrival of this butter was kinda 'meh, whatever.' LOL
There was a tiny sample of Sweet Pea body butter included but I haven't tried it yet. The one I ordered is Warm Vanilla Sugar scent. It's almost all-natural, and it's a thousand times better than the greasy Cherry Almond was without even trying it....but still nowhere near as great as my Bella's Birthday. This new one is very thick, almost like a balm. At first I thought it might have hardened because of the cold during shipping so I let it sit on my desk for quite a while before even trying it. It didn't seem to make a difference. When I did finally decide to use it I had to really drag my finger across to get any, and then it wasn't enough to properly do my hands. I had to keep rubbing more out of the jar. The Warm Vanilla Sugar scent in my soap is one of my absolute favorites, but it doesn't come across nearly as wonderful in this body butter. Maybe it's a different scent supplier, I don't know. As for the actual feel and performance, it's not too bad in my initial use. A bit more greasiness than I'd like but seems tolerable. My hands do feel great though! My overall opinion....undecided. I'll use it after my shower in the morning and maybe get a better idea.
But how fun to get TWO Etsy orders in one day?!