2010..... How weird is that? Seems like only yesterday we were all in a panic about switching to 2000. Would our computers still work? Would planes fall out of the sky at midnight? Would anything digital suddenly go haywire because it wasn't ready to roll over to 2-0-0-0 ? And to think the past ten years have flown by so fast is rather scary and depressing. Yikes.
We won't dwell on that.
My sister was here for part of the day today, a sort of surprise visit. She mentioned last night she might come over for the day but it wasn't for sure until earlier today. I never did ask details about why she was here. Hmm. I know they were going to visit Illinois friends, and I know her husband was ice fishing somewhere (in Wisconsin?) today but just where she was coming from or going to in all of this...I'm not clear on. *chuckles*
I had my very first Starbucks chai latte today. My sister is wild about them and has insisted for a while now that I need to try one. When they were here before Christmas she almost brought me one. Today she did. I don't drink tea or coffee. I wasn't sure what to expect with this. I admit it was good. I finished mine before she finished hers! Of course maybe I did that wrong and was supposed to sip and savor it more. Doubtful I'll be running out to Starbucks anytime soon but it's nice to know now that there is something interesting that I could order if I do.
She was also very excited to find a book review she wrote has been published online. (Read it
HERE
.) I might be getting this info screwed up but she had to do some test writing for this company and then was given the opportunity to submit a review, and if they accepted it she'd be paid and they'd put it on the website. This was her first one, and she's been given a chance to do another. She's also written other reviews that can be seen over at her own blog (
You Are Here
) if anyone is interested. Yeah, her reviews are a little more professional than my basic 'It sucked' type natterings. If you can't tell....hehe....she's working to be a writer.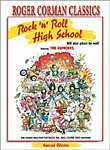 Rock 'n' Roll High School
(1979)
The students at Vince Lombardi High School love rock 'n' roll -- particularly the Ramones. But there's a new principal (Mary Woronov) in town who's not going to stand for it, and she asks the PTA to help her ban rock 'n' roll music from the halls forever. With the help of the Ramones themselves, the students will fight for their right to party in this classic action-comedy starring P.J. Soles, Vincent Van Patten and Clint Howard.
We watched this while my sister was here. Wow, this movie sucks! We knew it was bad but sometimes it's fun to watch the ancient crap that you used to like in its day. I don't know how we could have liked this back in the '80s?! Maybe because we were just thrilled to finally have a VCR and it was fun to watch anything we could get our hands on? We were laughing at it today, and mocking everything in it. And Joey Ramone.....? Not hot in any way. None. Nothing. Sometimes even unattractive people can have a certain something about them but no, not this one. He was scaring me. Seriously creepy looking dude.
I had planned on taking the Christmas tree down today but decided to leave it because my sister was coming. Figured she might like seeing it again, and figured it would take too much time to take it all down and pack it all away. So it will probably be up until January 5, which is my day off. Unless I'm really ambitious after work tomorrow and decide to tear it all down.
Yes, tomorrow it's Back To Work for me. I am soooooo NOT liking it. Since November 24, I have only worked three days. Some of that time off was holidays, obviously, and the rest was using up my vacation time. We have a Use It Or Lose It policy so haha suckers, I used it. A couple days ago I planned out my 2010 vacation days and it looks like I'll probably be able to have nearly all of December off again. Woot! This 12-hour shift does have its perks!
Anyway, back to work.... Ty pointed out a few days ago that during this whole extended break I never had my usual 'I'm ready to go back' phase. I hadn't realized it until he said it but yeah, I never did have that feeling of needing to get back. I've *always* had that before. If I had a week off I was usually ready to go back after a couple days. If I had two weeks off I was usually ready to go back after a week. This time, not at all. I take that as one more sign that I'm ready to leave there. I have not missed any of my co-workers this time. I have not wondered how things are going there like I always used to. When I picked up my paychecks I was glad to get back out of the building as soon as possible. I've joked many times with hubby about quitting, about retiring, and he never tells me no, or that I can't, or that we can't afford it. Usually I just joke and shrug it off because I know it's just what I have to do, work and bring in my share of the income. But this time.....I really just don't. want. to. go. back. It's kinda scary really. And now is not the time to be quitting a steady job, not when so many people can't find a job, not with the economy the way it is. So I will suck it up and drag myself back there tomorrow morning and try to remember what it's like to do my job.
But for now, some Boom Blox on the Wii before bed. Or maybe just a bit of reading.