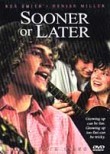 Sooner or Later
(1979)
To attract the attention of 17-year-old rock 'n' roller Michael Skye (Rex Smith), 13-year-old Jessie Walters (Denise Miller) enlists the aid of a professional makeup artist who transforms her into a 16-year-old. How will Michael react when Jessie's web of lies is exposed? Judd Hirsch and Barbara Feldon also star in this likable made-for-TV drama about false appearances, teen fantasies and, ultimately, telling the truth.
I couldn't believe this was available on DVD and I couldn't believe Netflix had it. Of course I had to add it and immediately bump it to the top of my list! Got it today, watched it today, and ya know what? I can't believe how much I liked it. Really, it's such a sweet little movie...even after all this time. Sure, there is some cheesiness and it's really hard to get past those damn tight jeans guys wore (actually ALL of the guy fashion at that time!) but....I don't know.....it's still pretty darn good.
It's kinda creepy to think that Rex Smith was 24 when this movie was made. Denise Miller was 15 or 16. It's also funny how he just dwarfs her. IMDB says he's 6' tall, so she must have been tiny.
Again, not quite sure what makes me like it after all this time. Well there is alot I could say but I'm not brave enough to open myself up to that. LOL! I know I liked the movie back then, and I know I haven't seen it for over 20 years. I bought the first two books off Ebay maybe five years ago, didn't like the second book nearly as much as the first, and don't think I ever found the third book. You Take My Breath Away has long been a guilty pleasure song for me. Now I've finally seen the movie again and was greatly surprised to find myself liking it! I was totally prepared to be rolling my eyes and trashing it from the first moments!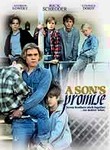 A Son's Promise
(1990)
Terry O'Kelly (Rick Schroder), a 17-year-old fatherless Georgia boy, promises his mother (Veronica Cartwright) on her deathbed that he'll keep the family together and care for his six younger brothers. As he takes on the challenge, Terry faces severe tests -- including starvation, natural disasters and the temptation to give up. Based on a true story, this poignant drama co-stars Stephen Dorff, David Andrews and Donald Moffat.
Another made-for-TV movie, watched this one yesterday. Kinda high on the cheesey factor but I guess that's what you get with TV movies. It was still pretty good though. It didn't really explain somethings though, like just how much scamming the guy who was 'helping' them was doing. It's strongly implied and you guess right away that he's having his 'church helpers' open the donation letters so Terry will never really know how much money is coming in. And it seems pretty obvious that he's manipulating the 'donated' house situation so he can end up with a brand new house in the end. And did he just never talk to the boss, knowing that if Terry lost his job they'd be even more dependant? I mean, you kinda figure those things but it's never really cleared up and explained. He's never caught red-handed.
And a few other lingering things make you wonder, like did the one brother go on to college? Did they get the chicken business going again? Just what happened to all of them in later years? I don't recall seeing any little info blurbs at the end. Maybe I'll Google their story after I post this.
We had total geek central here at the house yesterday. One of Ty's friends that hasn't been here before came over. Apparently this kid is a Yugi card duel genius. Not to be horrible but he has that total geek package going....look, voice, knowledge, personality. It was funny to be an outsider looking in on their Yugi Geek PowWow. Friend, Matt, Ty, Casey, and hubby all hovering around the table for card duels. There was probably a Fort Knox of card collections in that room yesterday. And to hear them all prattling on and on about this card or that.....just too funny. Oh, even more funny is that hubby was knocked down several pegs in his I Have The Ultimate Deck attitude. GeekFriend walked all over him. LOL!
Sent some soap samples to the Tart Lady today. I'm kinda not even caring what she thinks of them because I'm having one of those huge internal debates about it all again. I finally tried that sample of soap the Other Tart Lady had included. Hers is not goat milk soap but it was fine just the same. It seemed comparable to mine actually. *huge aggravated sigh* I don't know what to do. Quite a lot of this is still fallout from the asswipes on that soap forum I was going to.
Bleah!
And now my thoughts are so scattered that I'm just going to end this post.....here.