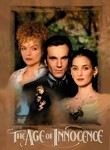 The Age of Innocence
(1993)
Daniel Day-Lewis stars as Newland Archer, a well-bred New Yorker engaged to an appropriate match: cultured May Welland (Winona Ryder). But when her alluring cousin, Ellen Olenska (Michelle Pfeiffer), comes along, Archer puts society's mores to the test. Edith Wharton's Pulitzer Prize–winning novel transfers lavishly to the screen under Martin Scorsese's direction, with Ryder earning an Oscar nod for her incandescent performance.
I think it was reader Erin who recommended this one. I really liked it! Having read the Luxe series not so long ago alot of this movie was like those books brought to life. All the high society gossip and scandal, all the manners and etiquette, the fancy parties, the good families, the proper matches. It was fun.
It's no secret that I pretty much can't stand Winona Ryder but she really didn't bother me much in this one. Maybe because we didn't see too much of her....ha. I'm not overly fond of Daniel Day Lewis either but I kinda liked him in here. I got a little lost in what was going on between him and Michelle Pfeiffer. She didn't want him? She did want him but thought it was wrong? She was the skanky bitch everyone thought she was and was just playing with him? She didn't want to hurt Winona's character? Not sure why things ended up the way they did, but I was really glad he did what he did at the very end.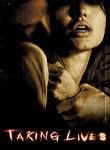 Taking Lives
(2004)
Recruited to assist Montreal police in their desperate search for a serial killer who assumes the identities of his victims, FBI profiler Illeana Scott (Angelina Jolie) knows it's only a matter of time before the killer strikes again. Her most promising lead is a museum employee (Ethan Hawke) who might be the killer's only eyewitness. But can he really be trusted, given the murderer's penchant for deception?
Pretty darn good movie. We saw Angelina Jolie's boobs and the whole porn scene that followed but if you can forgive that the rest of it was quite good. Hubby and I suspected who the killer was fairly early on but we could not fit the pieces together to support our theory.
Good movie.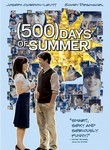 (500) Days of Summer
(2009)
When his girlfriend, Summer (Zooey Deschanel), unceremoniously dumps him, greeting-card copywriter and hopeless romantic Tom (Golden Globe nominee Joseph Gordon-Levitt) begins sifting through the year-plus worth of days they spent together, looking for clues to what went awry. As he recalls the good and bad times he spent with the commitment-phobic girl, his heart reawakens to what it cherishes most. Marc Webb
directs this uncommon love story.
Hubby didn't watch this, said it was a chick flick. And if was. I liked it enough that I'd watch it if I came across it but did not like it enough that I'd ever buy it. Joseph Gordon-Levitt is very good in this. (I like him anyway though.) I was so glad when he snapped and yelled at her! I'd been wanting to do that myself! I wasn't fond of the way it jumped around in the timeline, and there is one crucial event that I don't even know at what point it happened because of the time bouncing. And I wish I knew! I'll have to snoop around the internet to find out. Overall though, a nice little movie to watch if you're bored.
In other news.... I made soap today, first time in almost three weeks. Why my renewed interest? Because I was stressing myself out by sitting on the fence between Just Quit and Just Do It, and I decided to just throw myself into selling. And hey, if it's a bomb I can then quit without the feeling 'What if....' I have a website up now. I don't want to post a link here yet, but anyone that knows me probably already has it. If you'd like it, contact me and I'll gladly link you. I'm also considering selling on Etsy. Considering it so much in fact, that I might list a couple things tonight yet. *hands shaking in fear*
I took one of each of my current soaps to work the past two days. I had them in a little display box with my name and logo, had order forms, had business cards. I didn't push any business on anyone, just left the box in the breakroom for whoever wanted to look. Alot of people looked and asked questions to everyone but me. (Am I really so scary?) There is a language barrier so I suppose it was awkward on both ends. A couple people were asses about it all. Several people who were loving the free samples before the holidays are not loving the soap so much now that they have to pay. One person is weirdly excited about my little business adventure and trying hard to be my best friend.....and business partner. Sold seven bars, handed out many many business cards, and had one person give me the business card of his sister, saying he knows she'd love the soap and is sure she'll send business my way. Soooooooo......now we wait and see where it goes from here. I don't know how aggressively I want to pursue this. Right now I'm feeling like I'd be content with 'whatever happens happens.' Everyone is full of advice on how to boost sales and make contacts and blah blah, but I'm not sure I want to. Craft fairs are the way to go, I know, but I don't feel like I want to do that. I am considering Etsy though....
It's also kind of cool now to see what soaps people like. I've had enough samples out there for a long enough time now that I'm hearing what favorites are and getting some requests. This makes it easier to know what to make next. The kitchen/hand soaps are a big hit. Who would have thought?! My latest order of fragrance oils is more streamlined and focused instead of the usual 'Ooh that sounds good, I'll make that!' This will all help me narrow down my eventual product list. I'd like to have a small line of regulars, and then have the seasonal things and the random new scent scattered in here and there. So yeah, chaos could be right around the corner or it could be a very slow, barely there kind of adventure. *shrugs*
Ok... *blushes* ....got another order of tarts today. I can't help it! I just love them!!
This time I got: Pecan Caramel Swirl, Heaven' Snow (vanilla/mint), Cozy Kitchen (vanilla,cinnamon, apple, chocolate, caramel, brown sugar), Snow Angels (mint/buttercream), Butter Crunch Cake (buttery nutty vanilla), and Black Raspberry Vanilla.

I've gotten the Pecan one before and LOVED it so much I had to order more. It's my absolute favorite for now. The Snow Angel tart doesn't show up good enough in this pic but it's a very light pastel blue with a white top and silvery blue glitter. Hubby was immediately in love with the Cozy Kitchen. He usually just reacts with a sniff and a 'Mm, that's nice.' This one, however, got a sort of gasp and an 'Oh! I. Like. That!' Once again, I have to push this Etsy seller:
Country Home Scents.
If you're looking for awesome tarts, or just want to get started with tarts, I absolutely recommend these ladies. They have super fast shipping and are so friendly. Go see them. Go. NOW.
I also got my sample pack of Twilight body butters a few days ago. I've loved my Bella's Birthday scented butter so much that I knew I'd order more eventually but didn't know what scent to try next. The seller offered to do small 1 oz sample bottles of whatever scents I wanted. Once again it took quite a while to receive the order (that bugs me) but I guess I'll have to live with that if I want to keep ordering from her.
Anyway the four scents I'm going to try are Edward, Alice, The Wedding, and The Volturi.
THE VOLTURI – we love this fragrance! It's a rich and dark blend of strong spicy tones, an earthy presence for their underground lair, Italian flair, sweet Vampire allure, and powerful exotic notes to exude their age and experience around the world that only 3000 years can bring. It's a feminine blend that's perfect for the strong, spicy, and slightly menacing part of every woman!
This one is kinda...blech. For whatever weird reason it really does smell like something ancient. I don't know what ancient things smell like but that's what my impression was. LOL This will probably end up being used on my feet.
THE WEDDING - Alice transforms the Cullen residence into a lush paradise filled juicy Orange Blossoms, enticing Freesia, delicate Roses, and soft Lilac. An irresistible and intoxicating floral scent!
Another that I kinda turned away from after a big excited sniff. It's way too flowery, too perfumey. Probably going to be used on my feet again. hehe
ALICE - A delightful & refreshing combination of sweet fruits, juicy citrus, and delicate florals. It's a beautiful, bright, happy fragrance!
This one is their best seller, and this one I like. It's fruity and fun. Not even close to replacing my Bella's Birthday but good enough that I will use freely instead of hiding on my feet.
EDWARD - A delicious mix of sweet Honey, soft Lilac, and Sunshine; as Breaking Dawn describes him from Bella's perspective. Experience how irresistible Edward's scent is to Bella, and let your dreams begin!
And this one.... If this was really what Edward smelled like, well, then.....Oh.My.God. Sooooo yummy, it's no wonder Bella couldn't stay away!! Still not as good as Bella's Birthday but so sooo good.
I haven't actually tried any of these yet because I'm trying to use up a previous butter from a different seller. I would imagine the actual product is going to behave the same as the Bella one so that's another reason why I'm not diving into these little samples right away.
Alrighty, I've nattered enough to make up for my long absence....