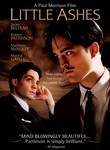 Little Ashes
(2008)
This evocative film explores the relationship between two of the 20th century's most notable Spanish artists: poet Federico García Lorca (Javier Beltran) and surrealist Salvador Dalí (Robert Pattinson). Along with filmmaker Luis Buñuel (Matthew McNulty), they take the country by storm. Amid the jazz and modernism of 1920s Madrid, their friendship grows -- as does the sexual tension between Lorca and Dali. Marina Gatell co-stars.
I really liked this movie! And not because of Rob Pattinson. I actually found him to be the weakest link in all of it. Definately not the hottie vampire Edward Cullen in this one!
Ok, so once again I don't know diddly about the real events in this movie and it could be a really loose, twisted version of events....I'd never know....but I found it interesting. Was Salvador Dali really that wacko? He's one of those people I always think lived way longer ago that he did. I'd never heard of Federico Garcia Lorca. The movie is more about him really, and I loved the guy who played him. I loved his character, felt so bad for him and his female friend Magdelena, and cried when he was executed. Rob's Dali however, had me cringing most of the time. I felt bad for him a couple times because he was...confused.
A good movie though, one that's stuck in my head. It's been a while since that has happened.
Watched several episodes of Lost today. I'm finally getting excited about the new season. For the longest time I was rather 'Ho hum...last season...finally...no sense pondering anymore.' But no, I think I have some pondering left in me right up to the end. Woot!
Major headache this evening. Should probably go to bed early but......I'm sure I won't.