Well look at me...I go back to work and immediately start skipping days here on the blog. Bad me.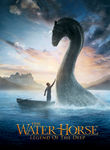 The Water Horse: Legend of the Deep
(2007)
Young Angus MacMorrow (Alex Etel) watches in awe as the mysterious egg he found on the shores of a nearby loch hatches into something incredible. But how long can he keep his ever-growing secret from his mom (Emily Watson) -- and an increasingly concerned Scottish government? Ben Chaplin, Brian Cox and David Morrissey also star in this enchanting fantasy based on Dick King-Smith's popular children's book.
Watched this last night, finally. I was probably the last person on earth that hadn't seen it. I've wanted to see it since it came out so I'm not sure what took me so long. I wasn't expecting much, just a typical dorky kid/creature movie, but I was surprised. I really liked it. Yes, of course, it made me cry. I really liked the handyman guy....liked how he spent time with the kids, how he kinda put the mom in her place, how he was a war hero but didn't discuss of acknowledge that part of his life. And there was the other military dimwit who was trying to puff himself up as a huge war hero but was really only a clueless cowardly little weasel. When the mom started to get all googly eyed for him....bleah!! And the end was so sad. I wonder how many people just saw it as 'oh boy, here we go again with another unsuspecting little boy, hehe' when actually it was also telling us that Crusoe had died. *sniffle*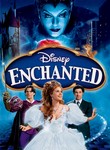 Enchanted
(2007)
Wide-eyed Princess Giselle (Amy Adams) sees her perfect life in the cartoon kingdom of Andalasia come to an abrupt end when evil Queen Narissa (Susan Sarandon) exiles Giselle to the cruel, real world of New York City, a place ruled by street smarts instead of royals. A native Prince Charming (Patrick Dempsey) reluctantly takes her in, but will his day job as a harried divorce lawyer -- and his cynical view of love -- stop their budding romance?
Finally saw this one too. Wasn't expecting much from this one either but I loved it! I absolutely loved Giselle's perky, 100% pure and kind heart, soul, personality. It was just so... refreshing. Patrick Dempsey is pretty awesome in this too. When they were at the ball, and he started quietly singing along with the song, my reaction was the same as hers. I did not like his girlfriend At.All. The blue and purple dragon was dang cool too. Loved this movie for it's good clean fun. (Ok yeah, so the evil stepmother was trying to kill her but still....)
Made three batches of soap today. It's been almost two weeks since I've made any. The tart world had snatched my full attention. I think I'd even decided at one point that I was done with soap, figured I'd give away whatever I have made already and that would be it, and was very glad I'd never started a website or Etsy shop. For a short time (couple hours maybe) I was very content with that decision, even relieved to be done with it. Then I was chatting online with someone about a few things and that, combined with looking at some of the really rough looking products that some people are selling on Etsy, had me reconsidering my decision to give up soaping. Last night I was a little bit excited about it all again, told myself I'd throw myself into all things soapy today.....make batches, make labels, work on website, research Etsy startup, etc. Once I started this morning however, I hated it. All I could think of was all the other things I'd rather be doing.
*throws hands up in disgust and frustration*
I had also decided I don't really want to make wax tarts either. It's so much easier to just buy them or order them. Why should I add more troubles for myself, trying to learn how to make super duper uber fabby tarts? Did a bit of mental math though and decided if I keep burning tarts like I've been burning the Etsy ones, I'm going to NEED to be making my own. I'll go broke if I have to keep ordering them! And then, like a sign, the UPS guy showed up with my order...my ten pound bag of soy wax, and my three starter packs of wax dyes.
I've been burning my tarts from the Wisconsin seller (Augusta Hitching Post ~ go check her shop!) the last couple days. These tarts are huge....I cut them in half and have put one half in each of my burners.....and they smell sooooo wonderful! I haven't tried the freebies she sent, forgot about them actually. Doh! I've also been chatting alot with the other tart seller that I ordered from (Country Home Scents ~ check them out too!) and have already ordered more from her. In fact, she's going to try some of my soap. That's kinda what perked me up to the idea of sticking with it. If you're wanting some fabulously scented (and cute!) wax tarts I recommend both of these Etsy shops.
Took the Christmas tree down today. I'm pretty sure this is the longest we've ever had our tree up. It was over a month this time. I wasn't even sick of it yet?! It was more a matter of timing...I had the day off, had the time, so it came down. The house looks so bare now. I unplugged the outside Christmas lights too. They're still hanging out there but they won't be turning on anymore this season. Even though Christmas was quite lackluster this year I'm sad that it's officially over now.
Well I still have a couple things to do before bed so I guess it's "ta ta for now!"