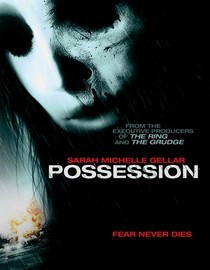 Possession
(2008)
Happily married Jessica (Sarah Michelle Gellar) deals with the fallout of a terrible tragedy when her husband (Michael Landes) and his brother (Lee Pace) both wind up in comas after a car accident. Even worse, when the brother awakens, he's convinced he's Jessica's husband. He seems to know details of Jessica's life that only his brother would be familiar with, prompting Jessica to suspect that a supernatural force is at work.
This one was pretty good except that I did not like the guy who played the brother, no matter what form he was in. Bleah. It did a pretty good job of keeping me wondering 'Is it him?' and being weirded out by the idea that if it was him, how hard would it be to look at the physical guy you can't stand but love and long for the personality he know seems to be.
Sure, there were some dorky 'whatever' things about the story but overall if was pretty good.