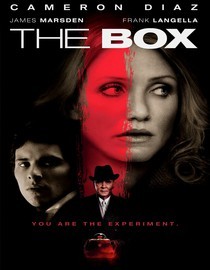 The Box
(2009)
A disfigured NASA employee named Arlington Steward (Frank Langella) informs Norma (Cameron Diaz) and Arthur (James Marsden) Lewis that they have 24 hours to decide if they want to push a button inside a box that will give them a cool million -- but a complete stranger will die at the same time. Richard Kelly (Donnie Darko) writes and directs this thriller based on sci-fi writer Richard Matheson's short story.
We tried to watch this last night. We both thought it was horrible. I gave up, about half way through. Hubby soldiered on until the end. I thought the acting sucked, the story was confusing and seemed pointless, and I really didn't care about anyone or anything going on. Ya know, I remember my brother telling me and my sister about the Twilight Zone episode that this is based on. It was many many years ago but I remember us having the debate about whether or not we would push the button. I never have seen that particular episode of the show but I think it has to be better than this movie version.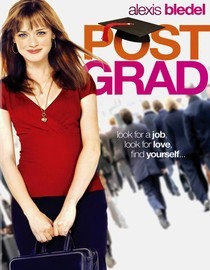 Post Grad
(2009)
Ryden Malby (Alexis Bledel) always assumed it would be easy to find a job with a college diploma. But when nothing materializes after graduation, she's forced to move back in with her dysfunctional family and work full-time at maintaining her sanity. The only bright spot is her steady relationship with her best friend, Adam (Zach Gilford), but even that's starting to feel a little awkward. Carol Burnett, Michael Keaton and Jane Lynch co-star.
Watched this one tonight. I thought it was supposed to be a lot more comedy, but it was actually more laid back, cute, boring. Predictable. Carol Burnett was excellent as the grandmother though. It was.....ok.