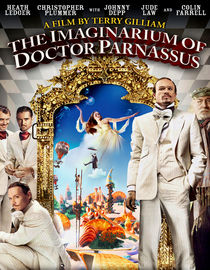 The Imaginarium of Doctor Parnassus

(2009)
When a deal with the devil comes due, the immortal Doctor Parnassus (Christopher Plummer) must renegotiate the pact to save his daughter. Now, with the help of his mystical theater troupe and a mysterious stranger, Parnassus attempts to right the wrongs of his past. Terry Gilliam's quirky fantasy marks Heath Ledger's final film, with Johnny Depp, Colin Farrell and Jude Law stepping in to complete his pivotal role.
Ok, I love Heath Ledger and I love Johnny Depp but wow...I did not like this movie. It was bizarre, I knew that going into it. But it was just so, I don't know... pointless. Ack. Bleah. Did not like it.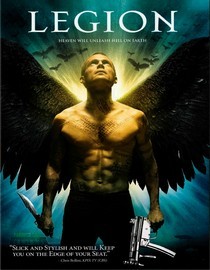 Legion
(2010)
In the wake of an apocalypse of major proportions, a motley crew of survivors (including Dennis Quaid, Tyrese Gibson and Kate Walsh) ekes out a living at an abandoned truck stop in the desert, never suspecting that the pregnant woman walking among them is carrying the Messiah. Paul Bettany co-stars in this thriller as the archangel Michael, who was sent to Earth to steer humankind away from darkness and toward the light.
This one, on the other hand, I was surprised by how much I *did* like it. I thought it was going to be another blood and guts shoot 'em up man movie, so I mainly got it for hubby. I wish there would have been more about the angels, not just the creepy demon type zombie angels. Gabriel's lethal weapon wings and do-it-all mace were a bit much. The ending was weak, and left wide open for a sequel or series. Other than those fairly minor flaws I was surprised by how into I got. And there is something hot about Paul Bettany. He has a dark look in this movie, not his usual near albino look, hehe. Maybe that's part of it. Or maybe his voice combined with the dark. I think it's definitely that power thing. You know, the same 'power' thing that I love about Edward Cullen, Professor Snape, and NotLocke. Not sure how to explain it and not sure if anyone cares.
He's lethal, he can kill any of them in the blink of an eye, he's been among the worst kind and knows what's going on, yet when he's holding the girl while she's in labor, urging her on in that deep, accented, authoritative voice...love it. This is not my new favorite movie or anything but yes, I really like it.