Boondock G
is an Etsy shop that I am totally wild about at the moment, and don't know why this isn't a more well known name. I first heard about this one from blog reader Jean. While I was mildly interested when she first mentioned it to me, I never did anything but browse the shop a couple times and make a mental note to order someday. More recently, Jean included a bar of Boondock G's Blackberry Sage soap in a swap we did. Again, the soap caught my eye but it ended up sitting in my stash with everything else while I tried other new things that I thought I'd been so interested in.
Then one day I popped that little bar into the shower and when I first used it . . . wow. Simply, WOW. I have not been this excited about soap for a long, long time.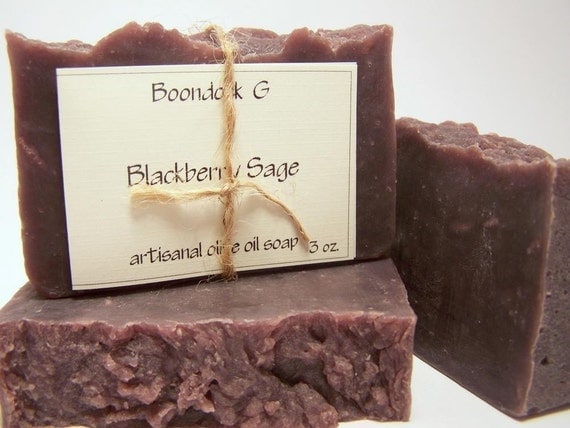 (I never did take a picture of the actual bar I had, so I'm borrowing this one from the Boondock G Etsy shop's old listings.)
The lather from this soap was just amazing. There is immediate, big bubbled lather that appears with barely any effort, and as you use it more it quickly becomes a thick, fluffy lather that rivals commercial body washes. And it lasts! And the scent was just right . . . strong enough to smell pleasantly in the shower, but not overpowering and perfuming your skin. This scent in particular might just be a new favorite for me. It's fruity but not overly sweet, and the sage gives it a sort of clean edge. My skin felt fabulous, my winter dry itchies quickly coming under control. I love this soap! Even hubby noted what a nice soap this was, and he usually just uses anything that's put in the shower.
So now I *knew* I had to order from this shop! And the fact that there was a 20% off sale didn't hurt either.
Tea Room
is described as '
A luxurious olive oil soap bar scented with fresh black tea warmed with rich masala spices of saffron, nutmeg, cardamom, peppercorn and light clove ~ flowering nicotiana ~ thick honey and drops of dark chocolate. A proprietary blend of fragrance oils and vegan friendly!'
I really like this one, and it's too bad they won't be making it in bar form anymore. It is hard to describe, slightly spicy but not strong and sharp like cinnamon. I do pick up hints of chocolate now that I know they are there, but I don't think I'd have ever recognized it otherwise. This is the type of scent that makes me think of Future Primitive or Haus of Gloi or even Valhalla. You know, that hard to describe, complex mix of things. And I love that so many (maybe all?) of the Boondock G scents are custom house blends.
Maiden's Blush
is described as '
A gentle handmade olive oil soap scented with a soft fruit blend of plum, pear and peach in a perfect union of champagne, cannabis blossom and clean earth. A suitable bath soap for women.'
This one is sort of a fruity floral at first but then you get more of a just plain 'clean' scent. It reminds me of someone being freshly scrubbed and still slightly damp, stepping out of the bathroom. LOL! At first I thought this might be too girlie for hubby but now I'm thinking he might see it as the 'clean' scent instead. It's quite nice, light and bright.
Boondock G's bars are on the smaller side, about 3.5 oz, but I'm ok with that because I'm so impatient and like to feel I'm using up soaps so I can buy more without the guilt. The $5.00 price for smallish bars would normally be a bit of a sore spot for me but because I am just crazy about this soap, I'm ok with it this time. And the packaging is so clever. I'm pretty sure the simple white paper these are wrapped in is simply . . . coffee filters. How clever and probably inexpensive is that??
I am wondering one thing though. The Blackberry Sage bar I had was a hot process soap and the bars I just received are cold process. Some people say there isn't much difference in performance, and I'm hoping that's true in this case. We'll see!
I also received a free sample of
Peppermint Blossom Tea
soap, described as '
Fresh tender peppermint leaves steeping in black tea with soft sweet notes of ginger, jasmine and fruits. Handmade bar soap suited for the woman species.'
This is a soft scent, not really minty and not really fruity. It's another of those hard to describe ones. It reminds me a bit of Bodycology's Enchanted Forest, if you want to run out to your local store and sniff that.
An act of 'You didn't have to do that!' that totally makes me a fan of this shop is that soapmaker Pat included this sample of body cream. Before I had placed my order, I'd contacted her to ask if she ever had smaller sizes of body creams available. She said no, that sometimes they have samples of soap available but usually people just go ahead and buy the large size creams anyway. That was a bit of a bummer but it was the soap I was mainly after anyway. I don't know if she's done it this way before if she got creative for my sake, but she put this nice sized sample in a little 2x3 inch ziploc pouch and included it with my order. And it is in Maiden's Blush scent, to go with the soap. Thank you so much!! (I have not tried it yet.)
Among several items in the shop, Boondock G offers
wax tarts
. Ooohhhhh yes, this could possibly be my favorite all-around shop now! LOL! I chose the smallest option, which is three tarts for $3.00 and you choose the scents. I picked White Tea & Berries, Bamboo & Sugarcane, and Green Tea & Willow. (I don't see any scent descriptions on any of the Etsy shop pages.) White Tea & Berries is my favorite of the three. It almost reminds me of Christmas. The bamboo one is sort of a tangy 'green' scent. The willow one is kind of like a powdery perfumey scent. The tarts are made with soy wax and are free of colors and dyes. Looking forward to melting these!
So that is my first Boondock G Soapery haul, and if these cold process bars are as freakin' awesome as the hot process was I will definitely be ordering from there again.
How about you? Are you familiar with Boondock G already and just haven't told me? What are your favorites, or what would you try first if you do place an order? I'm super curious!